N619GE - First Airbus H145 Eurocopter EC145T2 with DART Basket for San Diego Gas & Electric
Landed for the first time at Gillespie field on March 23, 2018.
Left Texas on March 22, 2018.
Helicopter equipped with ADS-B
N619GE
- Flight Tracking Links:
Mode-S Code: A810C8
https://flightaware.com/live/flight/N619GE
https://planefinder.net/flight/N619GE
https://planefinder.net/data/aircraft/N619GE
https://www.flightradar24.com/N619GE
https://www.flightradar24.com/data/aircraft/N619GE
https://www.radarbox24.com/data/registration/N619GE
https://opensky-network.org/aircraft-pr ... o24=A810C8
https://www.planemapper.com
N619GE - SDGE Aircraft Fleet Tracking - ADSBexchange.com
24 hours old Tracks & Live:
https://tar1090.adsbexchange.com/?icao=A810C8
Active Tracking:
https://tar1090.adsbexchange.com/?icaoFilter=A810C8
Year: 2017
MSN: 20156
Type: MBB BK117 D-2
http://www.aeroboek.nl/ab-034C.htm
http://www.rotorspot.nl/current/n-3-c.php
https://www.helis.com/database/org/Airbus-USA/cn
https://registry.faa.gov/aircraftinquir ... Txt=N619GE
H145 - The multi-purpose EC145's high-and-hot evolution
http://www.airbus.com/helicopters/civil ... /h145.html
April 18, 2018 - Airbus Helicopters Press Release
First H145 for utility missions in the U.S. delivered to San Diego Gas and Electric
H145's safety and mission versatility to support construction and maintenance of powerlines in Southern California
GRAND PRAIRIE, TX. (18 April 2018) – Airbus Helicopters Inc. has delivered a new Airbus H145 to San Diego Gas & Electric (SDG&E), a major Southern California public utility company, which has put the aircraft to use supporting its vast electric transmission and distribution network.
This helicopter is the first H145 in utility service in the U.S. Other operations of the modern twin-engine helicopter include law enforcement, air medical transport, offshore oil & gas, and Private Business Aviation.
SDG&E selected the H145 for its missions after an extensive review of the latest helicopter models and technology available that would meet the company's challenging requirements, which include heavy loads, range and high/hot operations. The company uses helicopters for stringing power lines, setting poles, transporting maintenance crews to remote locations and patrolling its vast power line network.
"We wanted to find an aircraft suited for all of our missions with the primary concern being the safety margins," said Jesse Thrush, SDG&E Aviation Analyst. "The H145 was chosen because of the twin engines, power margins, flight controls, the Helionix avionics suite and the advanced autopilot."
"The highly versatile Airbus H145 is quickly becoming one of the most popular helicopters in North America, and the entire Airbus organization greatly appreciates this endorsement of our aircraft by an outstanding company like San Diego Gas & Electric," said Chris Emerson, President of Airbus Helicopters Inc. "Our team looks forward to supporting SDG&E and its mission and providing you with outstanding service."
The H145 has a roomy cabin that can seat eight or more passengers. It features the Airbus Helicopters developed Helionix avionics, including a standard 4-axis digital Automatic Flight Control System for reduced pilot workload and improved situational awareness. The Turbomeca Arriel 2E engines, with dual channel FADEC, generate 951 shaft horsepower for take-off and allow improved hover and one-engine inoperative performance, as well as increased maximum gross weight capability. The Fenestron enclosed tail rotor dramatically reduces noise levels.
https://www.verticalmag.com/press-relea ... -electric/
http://airbushelicoptersinc.com/news_pr ... ectric.asp
https://business.facebook.com/Airbushel ... 7879620673
Airbus Helicopters Inc.
March 19 at 9:42am ·
Today, we delivered the H145 helicopter to San Diego Gas & Electric. SDG&E provides natural gas and electricity to San Diego County and Orange County in southwestern California. The new helicopter will be utilized for conducting aerial assessment of electric facilities, construction and other utility operations.
'Safety is very important to us,' said Jesse Thrush, SDGE's Aviation Analyst. 'After considering all aircraft on the market, the twin-engine H145 helicopter checked all the boxes for us.'
The Airbus H145 is the class-leader among light twin-engine helicopters, incorporating Airbus Helicopters' advanced cockpit design and innovative Helionix avionics suite. Its versatility, spacious cabin, and rear-loading clamshell doors have made it the leading choice for diverse aerial work missions.
https://www.facebook.com/Airbushelicopt ... 100593518/
https://twitter.com/AirbusHC_usa/status ... 9664040961
Hawkesbury, Ontario – February 28, 2018 - DART Aerospace and Airbus Helicopters Inc. (AHI) have partnered on the design and development of a Quick Release, Heli-Utility-Basket™ for the Airbus H145 aircraft and have provided the first unit to the lead AHI Customer, San Diego Gas & Electric (SDG&E). The STC basket has been approved by the Federal Aviation Administration (FAA), with European Aviation Safety Agency (EASA) validation expected by Q2 2018.
"The DART team appreciates the collaboration of Airbus Helicopters and SDG&E to optimize the design of this quick release basket, which can be attached or removed from its supporting brackets by a single person in just under 1 minute," said Alain Madore, President and CEO of DART Aerospace.
The basket can transport up to 200 pounds of cargo and has an enhanced-safety, self-locking lid mechanism to secure cargo during flight.
"Airbus foresees a strong need for the H145 basket to service the demands of the growing utility market for this aircraft. We are pleased DART was able to successfully execute this project under the tight time constraints," said Kathy Six, Program Manager, Airbus Helicopters Inc.
The short, six-month product development schedule was achieved with key contributions from the following AHI teams: Strategic Purchasing led by Martin Gohr, Senior Director, Program Management led by Kathy Six, as well as AHI Engineering and Sales. Timely input from the Customer, SDG&E was also a key enabler.
The DART STC H145 Quick Release Heli-Utility-Basket™ is currently the only basket solution available for the H145 aircraft.
http://www.dartaerospace.com/news/dart- ... kettm.html
https://www.ainonline.com/aviation-news ... 145-basket
https://www.verticalmag.com/press-relea ... ty-basket/
Photos:
Photo with the DART Basket.
https://www.helis.com/database/cn/47219/
Large Photo:
http://airbushelicoptersinc.com/images/ ... y-SDGE.jpg
Airbus Facebook Photo
FlightAware Photo
https://web.stagram.com/p/BgolK8zAWFK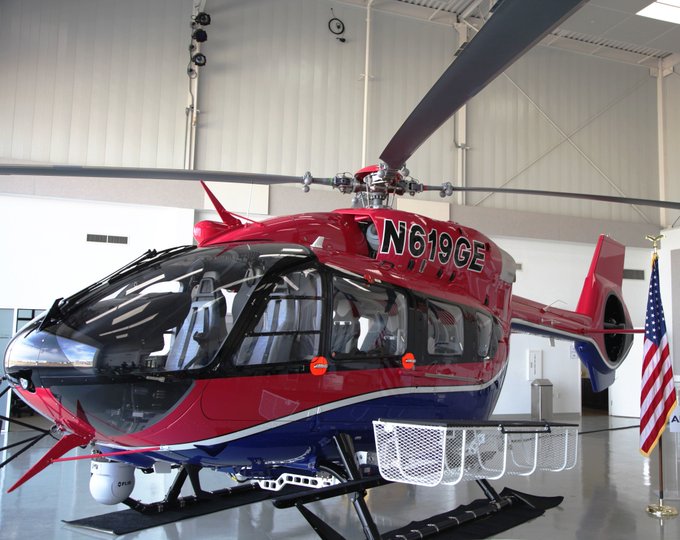 Some more photos on these links.
https://www.instagram.com/p/BybDYkPFJTu/
https://www.instagram.com/p/ByaozOllnSa/
https://www.instagram.com/p/ByaoUXRlE0x/
https://www.instagram.com/p/BwclzS_hfCP/
https://www.instagram.com/p/BuNE-SqBtHn/
https://www.instagram.com/p/Br6nu9EB0bo/